Randye and Candace: Goin' West
Having moved to Iowa nearly three years ago, I realized that I'd seen very little of the state or any other sites in the Midwest. I also remembered my years-old desire to see Mt. Rushmore, a desire which has existed since seeing North by Northwest, located in Iowa's next door neighbor, South Dakota. This was also an opportunity to spend some time with one of my nieces who--by the way--had never been this far west. So, I planned an adventure very different from anything she--or I, for that matter--had ever experienced.
Day 1
Actually, I'm going to start our adventure the Saturday before we left, when we attended the Iowa Democratic Convention in Des Moines. After we dropped her mother at the airport for her trip back East, Candace and I went to the Hy-Vee Hall for a day-long series of speeches, debates on party platforms, etc. Since the main business--the division and selection of delegates to the National Convention--had been decided at the county and district conventions and the presidential primary chase had finally ended, there wasn't much to hold her interest. However, she did get to see some of the state's major politicians, such as the govenor and U.S. senator, and how a party functions.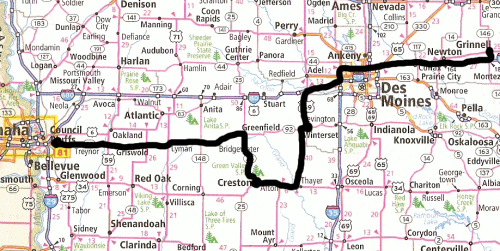 We got started late Tuesday morning with a well-packed car and a general plan for the trip. However, the philosophy throughout was to adjust as we saw sites that got our interests. When we pulled out, I noted that my car had 55,220 miles. (Don't worry, I won't give daily mileage, just the total on the seventh day.)
Heading west down I-80, we went through Des Moines and took US-169 south to Winterset. This is the birthplace of movie icon, John Wayne. Interesting artifacts, and we got a couple of souvenirs, but I wish I could have visited last year when they celebrated his 100th birthday. I'll try to get back after their new museum has been built.
The pictures below were taken outside the house and museum themselves.


We travelled to Creston to visit the CB&O Restored Depot. Unfortunately, we got there after closing, so we decided to drive on to Council Bluffs for the night. After finding a hotel for the evening and getting dinner, we went to the premier of Hancock,