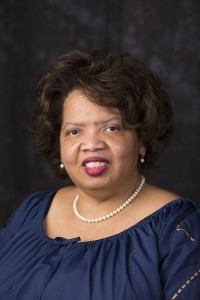 Soprano and researcher Randye Jones is a native of Greensboro, North Carolina. As has often been the case with other African American singers, she had her first exposure to Negro spirituals—and German hymns—in her home church. She received her bachelor's degree in music education from Greensboro's Bennett College, studying with Mary Jane Crawford, and her master's degree in vocal performance from the Florida State University in Tallahassee, where she studied with Barbara Ford and Enrico di Giuseppe. She continued her studies in vocal literature at the University of Iowa, studying with Stephen Swanson. She also studied with Judith Howle, Timothy Hoekman, and Millicent Scarlett. Charlotte Alston and Dominque-René de Lerma encouraged her growth as a musician and researcher.
While at Florida State, Jones expanded her musical interests to include both music research—especially related to vocal music by African American musicians—and music librarianship. She became a music cataloger at the university, followed by additional library work at George Washington University in Washington, D.C. Jones currently catalogs and manages the media collections for the libraries at Grinnell College in Grinnell, Iowa.
Jones authored her first book, So You Want to Sing Spirituals, as part of The National Association of Teachers of Singing (NATS) series, So You Want to Sing. Published with Rowman & Littlefield in 2019, the guide looks at the history of the concert spiritual and at effective approaches for introducing the songs to the vocal music community. Her second book, a compilation describing more than 5,000 recording tracks entitled Recorded Solo Concert Spirituals, 1916-2022, is scheduled for publication by McFarland and Co. in May, 2023. She also serves as a member of the NATS/Rowman & Littlefield Editorial Board.
As a researcher, Jones has been a pioneer in producing websites featuring the achievements of African American vocalists. She created the website Afrocentric Voices in "Classical" Music (www.afrovoices.com), which launched in 1998. In 2015, Jones launched The Spirituals Database (www.spirituals-database.com), a site with information on more than six thousand concert spiritual recording tracks by an international array of singers. She has also published several online articles, including "The Gospel Truth about the Negro Spiritual" and essays on tenor Roland Hayes's recording, "Were You There," and Marian Anderson's "He's Got the Whole World in His Hand," recordings which were selected for the Library of Congress's National Recording Registry. Jones recently served as the Humanities Scholar, consulting for the musical production, Dear Mr. Duncan, based on baritone Todd Duncan.
Her professional affiliations have included: Phi Beta Delta International Honor Society, the National Association of Negro Musicians, Society of American Music, Music Library Association, the Association of Black Women Historians, the Coalition for African Americans in the Performing Arts, the Recording Academy, and the Washington Area Music Association.
In addition to her activities as a recital and lecturer, Jones has presented at Growing The Voices: Festival 500, the National Association of Negro Musicians (NANM) conference; the Research, Education, Activism, and Performance (REAP) National Conference on Spirituals; the Harry T. Burleigh Society, the Tennessee Chapter of NATS, the African American Art Song Alliance (AAASA) and the Music Library Association (MLA) conferences. She was interviewed for the Australian Broadcasting Corporation's 2016 documentary, Spirituals: The Foundation of Popular Music.
Of the honors for her work, Jones most recently received the 2021 Florence Price Award for Advocacy, 2022 MLA Citation for a lifetime of contributions to the research of the Negro spiritual and advocacy of paraprofessional member participation within the organization and AAASA's 2022 Willis C. Patterson Research Award.